by Nick Evans
|
Last Updated:
May 11, 2021
Who doesn't love a cold draft beer or a perfectly chilled wine? If you prefer to drink from a tap rather than a bottle, purchasing one of these best mini fridge kegerators should be your top priority.
Getting yourself a kegerator also doesn't need to cost you a small fortune. There are many kegerator options available on the market that can fit your budget. Moreover, you can turn a mini fridge into one using a converter kit.
In this article, we answer your questions:
The 7 best mini fridge for kegerator
What is a kergerator?
Why is a mini fridge perfect as a kegerator?
Things to consider when picking a mini fridge for your kegerator
How to turn a mini fridge into a kegerator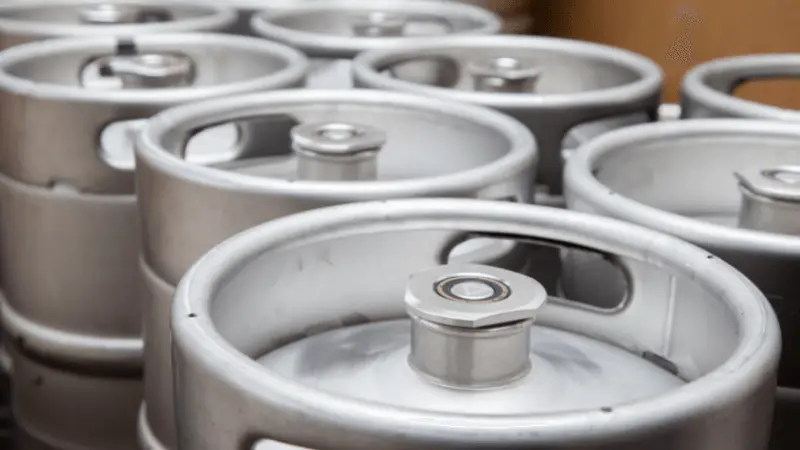 What Is a Kegerator?
A kegerator is a combination of a keg and a refrigerator; hence, its name. This equipment is popular among brewers and is used to store kegs of wine or beer. You can also serve ice-cold drinks through its tap.
The kegerator also keeps the pressure of your drinks, which maintains its carbonated state longer. If you have a mini-fridge at home that you don't use, you can also turn it into a kegerator using conversion kits that you can buy online.
Best Mini Fridge for Kegerator
One of the biggest benefits of buying a kegerator is that you can have fresh beer whenever you want it. Beer and other drinks keep their flavor and freshness for long periods of time when stored in a stainless steel keg inside the refrigerated cabinet of a kegerator.
In this list, we are going to look into mini fridges that have a built-in converter kit and those that don't. We also took into consideration some of the features that you might be looking for in a kegerator when you want to make home-brewed beer and other beverages.
Here are some of the best mini fridge kegerators that you should consider if you ever find yourself in the market for one.
1. EdgeStar BR1500SS 15 Built-In Kegerator Conversion Refrigerator
This premium mini fridge comes ready with a kegerator converter. It already has a hole on top of the unit where you can install the conversion kit, so you won't need to drill one. You can also choose to use it as a regular refrigerator by plugging the hole.
The mini fridge's interior is spacious enough to accommodate even a half shell Sankey keg or two Cornelius kegs. Furthermore, it has a reversible door, which allows you to configure which side the door will open.
The EdgeStar BR1500SS has a protective floor plate which improves its overall durability. It also comes with casters which allows you to move it around much easier. Its temperature ranges from 30 °F for low settings and 40 °F for mid settings.
Specifications:
Dimensions (L x W x H): 25.69″ x 20.19″ x 35.06″
Capacity: 3.35 cubic feet
Installation Type: Built-In
Weight: 81.6 lbs.
Wattage: 105 watts
Possible Keg Configurations: 1 slim quarter, 1 one-sixth barrel, or 1 Cornelius keg
Pros:
Very mobile and easy to re-position because of casters
Easy to control the temperature because of forced air refrigeration
Wide temperature range of up to 60 °F
Simple to convert and offers tons of customization
Relatively large interior space
Cons:
It is a lot more expensive than other models in its category.
It's a bit heavier than its competition.
Consumes more electricity
2. RCA RFR320-B-Black-COM RFR321
If you want a more practical mini fridge to convert into a kegerator, then the RCA RFR320 is an excellent choice. This unit is surprisingly quiet and provides ample room where you can put the keg inside. You can also set aside its two removable shelves to gain more space.
Unlike other mini fridges, this one uses compressor cooling technology which can adapt better during hot weather. This fridge also features a reversible door, which is great, especially if you are left-handed.
Furthermore, it also has an adjustable thermostat so that you can regulate the inside temperature better. Its feet also have an adjustable lever that allows you to adjust their height level.
However, the RCA RFR320-B also has some design flaws. For example, the copper tubing on its compressor is completely exposed around its lower back, which may require careful handling and installation.
Recommended >> Best Mini Fridge For Beer
Specifications:
Dimensions (L x W x H): 20″ x 18″ 32″
Capacity: 3.2 cubic feet
Installation Type: Undercounter
Weight: 45 lbs.
Wattage: 92 watts
Possible Keg Configurations: 1 one-sixth barrel, or 1 Cornelius keg
Pros:
Simple and ergonomic design
Affordable price
Generally quiet
It comes with a reversible door.
Clean and smooth finish
Cons:
Some fragile parts are exposed
It stays in one place
Kegerator conversion kit sold separately
3. Magic Chef MCAR320B2 All Refrigerator
This Magic Chef mini refrigerator is an excellent option if you want to optimize space for your keg. Because it doesn't have a freezer and cooling lines that run towards the top, it's much easier to install your conversion kit. Additionally, you won't have to worry about any frost.
The bottom of the fridge is also flat, which helps it to better secure the keg and prevent it from slipping. Furthermore, the door and flush-back configurations are interchangeable, adding to the flexibility.
It also has interior lighting, two customizable glass cabinets, and a crisp drawer that is locked. Meanwhile, the exterior of this stand-alone fridge has a smooth finish and a modern feel.
The main disadvantage of this unit, though, is its noise, especially if it is not leveled properly. Additionally, its storage capacity is a tad bit smaller than some of the other products on this list.
Specifications:
Dimensions (L x W x H): 17.5 "x 18.7″ x 33.4"
Capacity: 3.2 cubic feet
Installation Type: Undercounter
Weight: 46.7 lbs
Wattage: 60 watts
Possible Keg Configurations: 1 quarter barrel, 1 slim quarter, 1 one-sixth barrel, or 1 Cornelius keg
Pros:
It is very spacious and can fit several small kegs.
It's a little quiet, but it cools down quickly.
Cons:
It doesn't have a freezer
Rattles a lot when put unevenly
A bit on the heavy side
4. Kegco Keg Dispenser
If you want to skip the conversion process of turning a mini fridge into a kegerator, then the Kegco Keg Dispenser is perfect for you. This kegerator also has the ability to connect up to two separate kegs at the same time. Hence, you can serve two of your favorite brews at the same time.
It also has a wide temperature range between 32 °F and 75 °F, which is great since you can also use it for homebrewed beer. You can control the temperature by pushing the up and down button on the control panel. The temperature can also be displayed as Celsius or Fahrenheit.
The mini fridge also has intuitive controls and an LED display. It can store up to three Cornelius kegs or an equivalent of a six gallon bucket of fermenting homebrew. Meanwhile, its fan-forced cooling system ensures even cooling inside the fridge.
Furthermore, it comes with a complete kegerator kit with things such as a stainless steel beer tower, two empty 5 lb. CO2 tanks, clamps, a faucet wrench, dual gauge regulators, plus air and beer lines.
Specifications:
Dimensions (L x W x H): 23.69 "x 23.69″ x 33"
Capacity: 3 cubic feet
Installation Type: Built-in
Weight: 97 lbs
Wattage: 100 watts
Keg configurations include: 1 full-size keg, 1 pony-size keg, 1 slim keg, 2 one-sixth kegs, and 3 five-gallon kegs.
Pros:
It has a Deep Chill mode for faster cooling
Intuitive controls plus clear LED display
Wide temperature range
Able to accommodate a wide variety of keg sizes
Even temperature distribution thanks to its fan
Cons:
More expensive than its rivals
It consumes a lot more electricity.
A bit hard to install
5. Danby DAR044A4BSLDD-6 Mini Fridge
For those who want a larger mini fridge, the Danby DAR044A4BSLDD-6 is the perfect product for you. It has a storage capacity of 4,4 cubic feet.
This compact mini fridge is ideal for dispensing commercial or homebrew beer thanks to its roomy interior. When turned into a kegerator using a conversion kit, it can settle in any part of your family room, basement, kitchen, and even in your office.
It comes with two full width and one ½ width glass shelves which can be removed when putting different sizes of kegs. The mini fridge also has a mechanical thermostat that you can use to ensure what's inside is at the right temperature.
Specifications:
Dimensions (L x W x H): 20.16″ x 20.16″ x 33.16″
Capacity: 5.1 cubic feet
Installation Type: Undercounter
Weight: 70 lbs
Wattage: 115 watts
Possible Keg Configurations: 1 full size keg, 1 pony keg, 1 five-gallon keg
Pros:
It is lightweight and doesn't consume too much space
Large capacity cabinet with a sturdy frame
Can accommodate one full size keg
Scratch-resistant worktop
Energy Star compliant
Cons:
It does not include a conversion kit
It can't be moved around since it lacks casters
The compressor is a bit noisy at times
6. KUPPET Kegerator & Draft Beer Dispenser
It features an elegant black cabinet with a chrome-plate guardrail. Meanwhile, it also has a detachable drip tray that collects excess water. You can also easily move around this fridge thanks to its easy-to-scroll casters.
The manufacturer also included a beer tower with a stainless steel faucet, an ID beerline, an ID gas line, a coupler, a single gauge regulator, and an empty CO2 tank. These accessories are pretty helpful when preparing cold tap beer.
Furthermore, this mini fridge is available in two colors–black and silver. It also includes a stainless steel internal floor mat that protects the liner while allowing the tub to move in and out smoothly during loading and unloading.
One of its disadvantages, however, is its subpar build quality. The installation manual is also not quite clear in explaining some of the installation procedures. Moreover, it doesn't have a temperature display, which could be helpful if you are making homebrewed beer.
Specifications:
Dimensions (L x W x H): 20.1″ x 17.5″ x 31.2″
Capacity: 3.4 cubic feet
Installation Type: Built-in
Weight: 88 lbs
Wattage: 100 watts
Possible Keg Configurations: 1 quarter barrel, 1 one-sixth barrel
Pros:
It includes a ton of accessories for the tap and beer tower.
Guard rail is durable and chrome plated
It comes with a stainless steel internal floor.
You can choose from two colors. The interior
space is a tad bit larger than some competitors.
Cons:
The Conversion kit is difficult to install.
Some components are poorly built
It doesn't have a temperature display
7. HOmeLabs Mini Fridge
If you are looking for an affordable mini fridge with just the right number of features, the HOmeLabs Mini Fridge fits the bill. This small refrigerator can easily be fitted with a kegerator convertor kit. It has a 3.3 cubic feet storage capacity and four removable glass shelves.
This fridge has a thermostat knob that comes in three temperature modes-minimum, medium, and max. At Med mode, the fridge's chamber has a temperature between 33 °F and 35 °F.
Moreover, it has a reversible door that allows the appliance to open from the right or left by switching the position of its hinges. The HOmeLabs Mini Fridge also comes with a removable drain tray that catches the water from the freezer, especially when you defrost it.
Meanwhile, the exterior of the fridge features a stainless steel finish where you can write messages on its surface using an erase marker or wax crayon. One disadvantage of this unit, though, is that it doesn't run as silent as to its more expensive rivals.
Specifications
Dimensions (L x W x H): 18.5″ x 17.7″ x 33.9″
Capacity: 3.3 cubic feet
Installation Type: Undercounter
Weight: 45.2 lbs.
Wattage: 85 watts
Possible Keg Configurations: 1 Cornelius keg, 1 sixth barrel keg, 1 slim quarter keg
Pros:
The stainless steel finish looks clean.
You can write on the surface of the fridge.
The reversible door is ideal for left-handed people because it is lightweight and takes up little space.
It has a removable drain tray
Cons:
It isn't as silent as to its competitors.
It isn't mobile and just stays in place.
Limited temperature range
Why is a Mini Fridge Perfect as a Kegerator?
Homebrewed or craft beer is seldom sold in bottles or cans. Kegs are the most popular container for these exquisite brews. As a result, you'll need a kegerator to serve fine craft beers at a cool temperature.
For several party hosts, this is perfect. Pub or small bar owners also use kegerators to keep their best beers refrigerated.
Mini fridges, especially those without a freezer, are perfect for storing small kegs since they fit almost perfectly in them. When converting a mini fridge into a kegerator, make sure that it is at least 25-inch in height as that is the shortest size of most kegs in the U.S.
Things to Consider When Picking a Mini Fridge for Your Kegerator
Before you buy a mini fridge for kegerator, there are a few things you need to take into consideration, such as:
Size of the Mini Fridge
The size of your mini fridge determines what types of kegs you can put inside. It's essential to compare the dimensions of your favorite brand's keg with that of your mini fridge. Moreover, if you have a brewing room, make sure that the unit will fit in it.
Extra Features
Mini fridges come with different features that separate them from their competition. The simplest mini fridge design to modify into a kegerator is one that doesn't have a freezer. However, you can still use one with a freezer by running the conversion kit through the door rather than the top of the mini fridge.
Value for Money
The price of the mini fridge is one of the most important things to consider, especially if you have a tight budget. Sticking to a price range based on the money you are willing to spend can help you narrow down your choices while still meeting the specs you need. Fortunately, you can get a good mini fridge for under $200.
How to Turn a Mini Fridge into a Kegerator
Converting a mini fridge into a kegerator requires several steps, which we can't go into in full detail in this article. However, building the most basic draft system requires a few hundred dollars for the materials, some DIY skills, and several hours of your free time.
Below is a short guide on how it is usually done:
Choose a refrigerator that can accommodate the keg size that you want. Also, take into consideration its temperature range and other features such as thermostat and lighting.
Decide on what kegerator conversion kit you are going to use. There are different kinds of kits, such as commercial and home-brew. They also vary in the design of their metal rails and other components.
Disassemble the fridge and make the necessary changes. Depending on the design you like, this might require drilling a hole or removing the plastic top piece entirely.
Next, find the cooling lines and pick a spot where you want your tower to be. Construct the tower cooling system, relocate the thermostat and light if needed, and follow the instructions on the converter kit.
Final Thoughts
Building your own kegerator from a mini fridge is a cost-effective way of serving perfectly cold draft beer and other beverages. When finding the right mini fridge for this project, make sure that the unit you are buying has all the features you want for a kegerator.
Do you have a mini fridge that you think is perfect to be converted into a kegerator? Let us know in the comments so that we can share your knowledge with a broader audience.