Looking for the best retractable cord vacuum? Perfect! You're in the right place.

There are many vacuums you can buy and they all have their strengths. If you are looking for a convenience and efficiency, a retractable cord vacuum should be on your mind.

In this article we answer the following:
The best upright, canister and lightweight vacuums with retractable cords
How does a retractable cord work?
Why buy a vacuum with a retractable cord?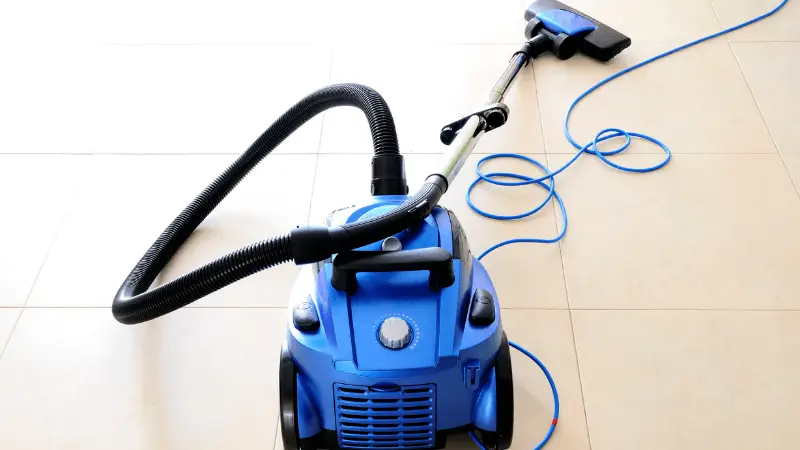 Let's jump right into it with the top picks.
Recommended >> Best Stick Vacuums for Vinyl Floors
Best vacuums with retractable cords
These are the best vacuums that have retractable cords based on our research. Each have their pros and cons, which we did our best to illustrate for you.
Please note that all of these picks are solid and whichever you may choose, you will be in good shape.
With that, let's get into the specifics.
Best upright vacuum with retractable cord
Bissel Cleanview
Best Upright

The BISSEL Cleanview is an excellent choice for a retractable cord vacuum. If you're looking for an overall quality buy, this is it. With an average 4.6 star rating on Amazon and over 12,500 reviews, this vacuum is a solid choice that will meet your needs if you're in the market for an upright vacuum with a retractable cord.
One of the more convenient features of this cleaning machine is that it's bagless. With that, the canister removal to dump debris is easy to remove and reattach.
You perform this action with a handle located at the top of the canister. Further, the canister holds a significant amount of dust, and doesn't easily clog when full.
There are 5 height settings on the Bissel. These settings are designed to cover tall carpet to flat wood floors and everything in between.
There are three foot buttons that perform the following:
Handle release from the locked position
Cord retractor
Red on/off button
Pros
Simple assembly
Bagless for convenience

Swivel steering for easy maneuverability

Retractable cord with push of a button
Cons
Rotary hand brush is sensitive to pressure and can make cleaning stairs a little more difficult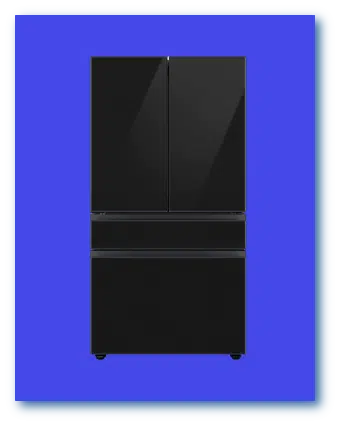 You are Wasting $100 a Month on Appliance Electricity Costs!
Download this cheat sheet to hack your monthly electric bill.
By subscribing, you agree to get emails from Home Appliance Hero. We respect your privacy and you can unsubscribe any time.
Best Upright Vacuum runner up
Eureka NEU202
Upright Runner Up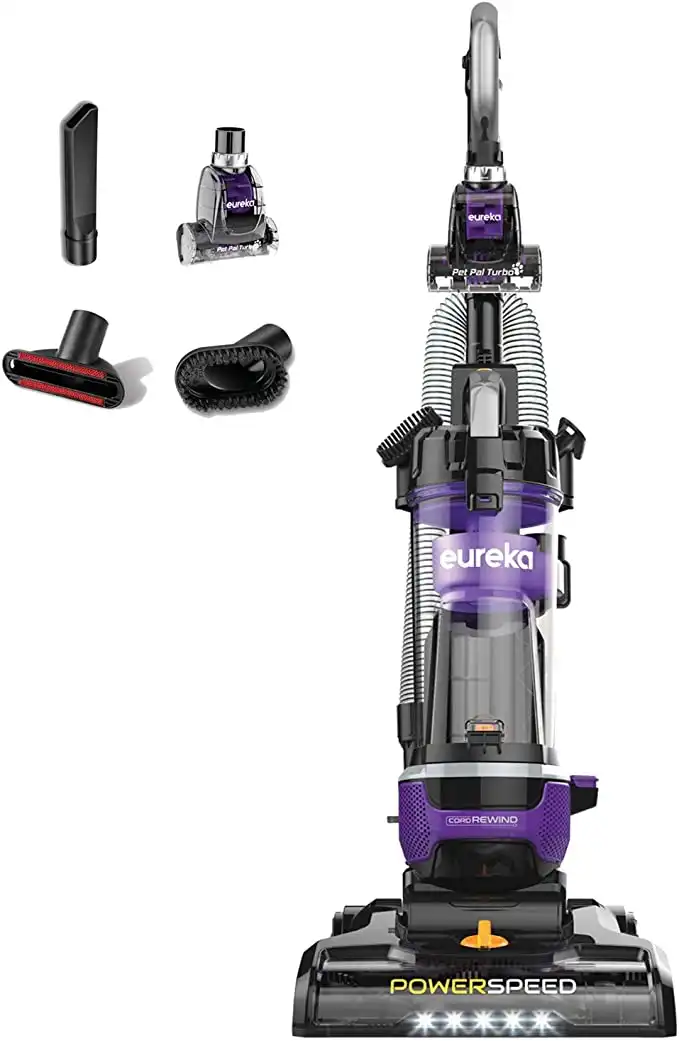 Coming in at a close second place is the Eureka NEU202. This upright vacuum is also very highly rated with over 7,000 reviews on Amazon averaging a respectable 4.3 stars.
This is a bagless vacuum with 3.8 liters of dust cup capacity. The considerable canister capacity allows for long periods of time before needing to clear out the canister. On top of that, the dust canister is an absolute breeze to remove and reattach.
This vacuum is very lightweight at 12.3 lbs making it easy to move around or transport as needed.
Pros
Super lightweight
Extremely strong suction
Easy to assemble
Cons
Maneuverability is awkward at times
Power brush attachment doesn't work well
Best canister vacuum with retractable cord
Kenmore BC3005
Best Canister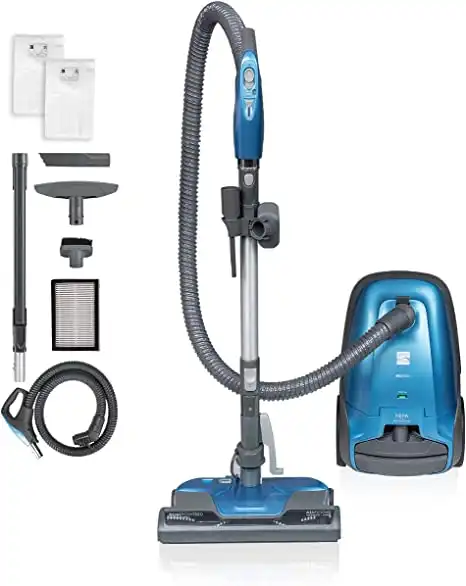 The Kenmore BC3005 canister vacuum is lightweight at around 20 lbs.
It is very maneuverable and has a conveniently retractable cord that winds up with the simple touch of a button.
In terms of suction strength, the Kenmore is excellent due to the dual-motor power.
For the hard-to-reach areas, you can utilize the 9.5 foot lightweight aluminum telescoping wand, and easily clean awkward angles or higher up places.
Lastly, this is a perfect vacuum to rid your house of pet hair. The crevice tool is perfect for sucking up pet hair from under couch cushions, on stairs, or other pieces of furniture.
Pros
Great for carpeted stairs
Retractable cord with the push of a button
Long cord
Cons
The cover is a bit flimsy
Hardwood floor attachment is small making it more challenging to clean hardwood
Best backpack vacuum
Atrix HEPA Backpack Vacuum
Best Backpack
As far as backpack vacuums go, we are not aware of one with a retractable cord. That said, the Atrix HEPA is an excellent backpack vacuum that is relatively comfortable. It works especially well on hardwood floors. At around 12 pounds, it is light and easy on the shoulders/back.
There is a belt strap that comfortable fits around your waist, which serves two purposes:
To secure the machine to your body while in use
To holster the various attachments you may need to use while cleaning
Due to the short cord (approximately 1 foot) that comes stock with the vacuum, you will need to utilize and extension cord.
Why does the Atrix HEPA come standard with such a short cord? Atrix manufactures the backpack cord at a short length for two reasons:
With users of the product ranging from professional cleaners to homeowners, the shorter cord allows the operator to choose which size extension cord best suits their needs
By using an extension cord, if it becomes damaged, the operator can simply change out the extension cord for a new one, rather than replacing the cord built into the vacuum
Pros
Comfortable
Lightweight
Great on hardwood floors
Cons
Attachments are made from relatively cheap plastic
Best lightweight vacuum with retractable cord
Eureka WhirlWind
Best Lightweight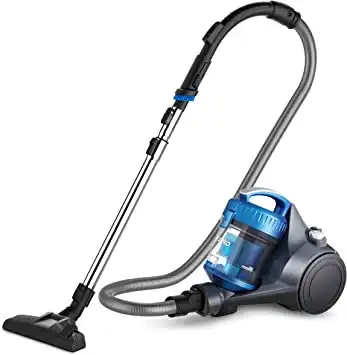 Lightweight vacuums are great for mobility. However, finding the right lightweight vacuum with a retractable cord can be a challenge. However we nailed it down to this Eureka WhirlWind. At under 10 pounds, it is loaded with great features and built with quality.
The vacuum has an integrated airflow control which is located on the handle. The three modes which can effortlessly change with the push of a finger include: carpet, upholstery, and hard floors.
Cleaning your Eureka WhirlWind is simple. The washable components can be submerged in water to remove the dust and debris. From there, simply let them dry and re-assemble. with the reusable components that can be submerged in water and washed.
Pros
Lightweight at around 8 pounds
Strong suction power
Cons
The hose attachment doesn't have wheels and can be difficult to push
Does shark make a vacuum with a retractable cord?
Yes, the popular vacuum company Shark does make a vacuum with a retractable cord. In fact, they make several. With that said, we narrowed down a very reasonable choice to the Shark NV752. It has over 8,300 Amazon ratings at a very admirable average rating of 4.6 stars.
Best Shark Vacuum with retractable cord
Shark NV752
Best Shark
The Shark is easy to put together with an assembly time of about 15 minutes. The Shark NV752 comes with a series of attachments including a 2-in-1 tool for pet clean up. The bristle brush makes cleaning stubborn debris and then the remove this to clean more sensitive items such as upholstery.
Pros
Bright headlight on vacuum makes seeing dust and hair very easy
Built with high quality material
Cons
Functionality can begin to slip after a year or so
How does a retractable cord work?
A retractable cord is a handy feature on a vacuum. They can make life more convenient and cleaning more efficient. But how exactly does a vacuum's retractable cord work?
Inside the vacuum, there is compartment housing the vacuum's cord.
In this storage compartment a pair of rotating wheels can be found. There are also ratchets that serve to lock the cord in place. When a person pulls on the cord and extends, the ratchets will trap the cord in place, and stop the cord from rolling back into the storage compartment.
In order to retract the cord, there is usually a button that can be pressed to release the ratchets and disengage causing the cord to retract. If there is no button, the user can typically perform a pulling action and cause the ratchets to unlock, thus retracting the cord.
Did you know? The first vacuum cleaner was invented in 1901 by Hubert Cecil Booth.
Why buy a vacuum with a retractable cord?
Simply put, convenience. Instead of having to manually wind up your vacuum's cord when you're finished, a retractable cord will automatically wind itself up and save you time.
Retractable cords can also provide a higher degree of safety in the event they accidentally become unplugged. When a manual cord is unplugged, it will lay on the ground and become a potential tripping hazard. On the other hand, a retractable cord will automatically wind itself up and clear the floor of any tripping hazard.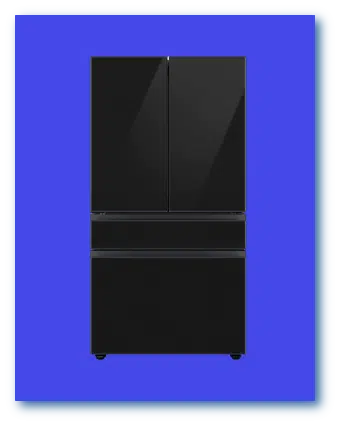 You are Wasting $100 a Month on Appliance Electricity Costs!
Download this cheat sheet to hack your monthly electric bill.
By subscribing, you agree to get emails from Home Appliance Hero. We respect your privacy and you can unsubscribe any time.